Haven was basically steady versus last week! Which is amazing because:
a) It's a Friday night
b) Big networks keep airing season premieres
18-49 Adults: 0.4
Viewers: 1.455 million
And Eric Balfour shared this on Twitter:
F*CK YEAH #HAVEN FANS! Ratings: SEASON HIGH P25-54, HIGHEST P18-34 since S4 premiere. Social mentions (20K) STRONGEST since S4 premiere! ❤️
— ERIC BALFOUR (@ERICBALFOUR) October 29, 2013
During the live broadcast of "Lay Me Down", all the hashtags we asked you to use including #pancakes, trended: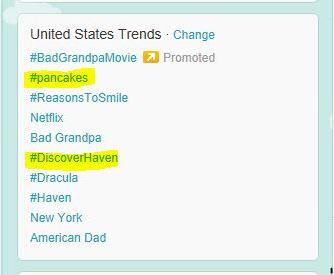 Thanks to all for watching, tweeting live and loving this show.
We can't stop now, we need Season 5.